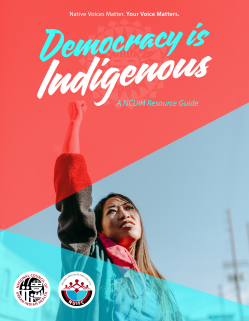 This toolkit provides civic engagement tools and online resources for UIOs to help them advocate and raise the Native voice in 2021 and beyond. The purpose of this toolkit is to increase Native Youth, UIOs, and Tribal organizational capacity and empower them to hold their newly elected officials accountable. Additionally, it offers best practices and resources for Native communities to stay civically engaged.
The toolkit addresses:
How Native Communities Made a Difference in the 2020 Elections
What Native communities are doing now to stay civically engaged
How Native Youth, UIOs, and Tribal organizations can hold newly elected officials accountable
The materials in this toolkit are provided for their ease of use, and they consist of PDFs and templates to aid letter-writing. In addition, the kit offers brief descriptions of some materials and a directory of web links to available online resources on elections and policy advocacy.
We encourage you to utilize this civic engagement toolkit and prior webinars to ensure that Native communities help maximize Civic Engagement. Remember, Democracy is Indigenous.